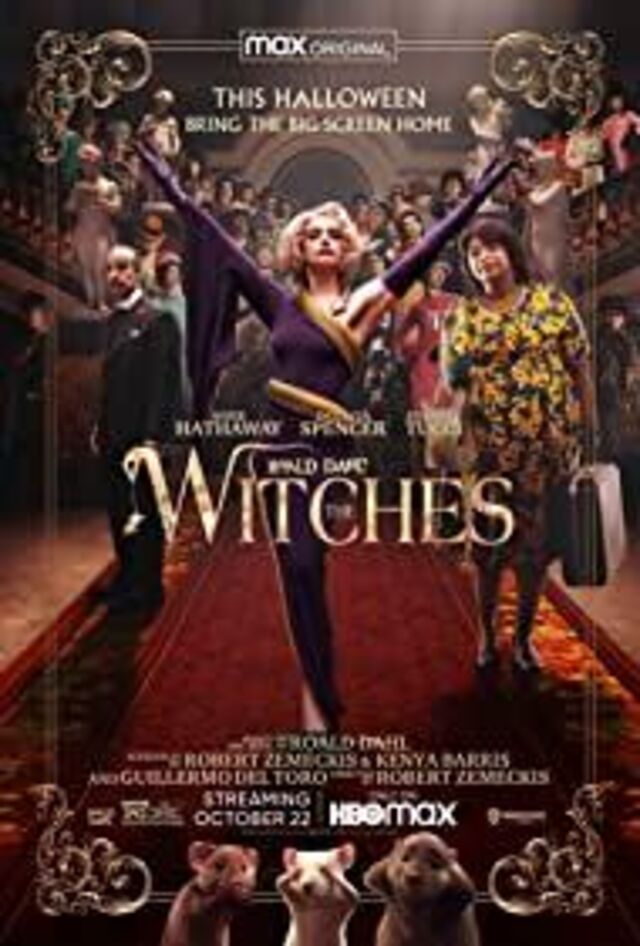 Director:
Robert Zemeckis
Writer:
Robert Zemeckis,Kenya Barris,Guillermo del Toro
Countries of origin:
United States, Mexico, United Kingdom
Language:
English
Release date:
October 22, 2020
Sound mix:
Dolby Digital
Aspect ratio:
2.39 : 1
Also known as:
Phù Thủy, Phù Thủy
"The Witches" is a fantasy film released by Warner Bros. on October 22, 2020. The film is directed by Robert Zemeckis and starring Anne Hathaway  .
The film tells the story of The Witches, played by Anne Hathaway, casting a magic on the little boy and turning him into a mouse. After the transformation, the little boy will rely on his own wisdom and the help of friends to expose the story of The Witches conspiracy   .
Details
Release date

October 22, 2020

Filming locations

Surrey, England, UK

Production companies

Warner Bros., ImageMovers, Canadian Film or Video Production Tax Credit (CPTC)
Box office
Gross worldwide
$26,900,000
User comments
( 5 ) Add comments
By Carter 2022-08-09 23:03:16

As the first Chinese to watch this film, come over and lie down on the sofa. I watched the 1990 version on Netflix last night. The styles of the two versions are very different but each has its own merits. The old version is a typical end-80s cult style. The warmth and fantasy elements in the new version make people think of the director's masterpiece "Forrest Gump." "And "Back to the Future" series, there is also a shot of a mouse walking a tightrope, which seems to pay tribute to "Walking in...

By Reagan 2022-08-09 19:07:43

Hathaway not only shines brightly as the White Queen, but also as evil as the witch. Her witch look is the best I have ever seen, giving full play to the advantages of big eyes and big mouth, ghostly and terrifying. With the French accent, the all-round packaging from the voice to the feet is all on...

By Maurine 2022-08-09 18:37:58

After watching it, I can only say that, fortunately, this film was released on streaming media, otherwise the box office should be a disastrous failure. I think the biggest problem is that the positioning of the film is not clear. If it is for adults, this is too pediatric, but if you show some scenes to younger children, it can scare them to cry. The quality of Maleficent 2 is not good enough, but at any rate Julie has stopped the venue. Here, Hathaway is acting like the MLM boss. The witch...

By Daniela 2022-08-09 16:27:46

2020.10.23 It's pretty good, and it's not so bad that the score is really low.. Although it is a classic American fairy tale, I still like this type and there is also the goddess Anne Hathaway! Anne Hathaway is really the actress with the most varied styles I have ever seen! No matter what the role is, you can shoot handily.. This time I even played the bald witch directly. The last three mice did not change back to human form. I didn't expect the storyline to be very simple. The male protagonis

By Morgan 2022-08-09 15:08:04

Lord! is another work that I want to wash my eyes after watching it. This is called a children's story, but Anne Hathaway (#Anne Hathaway#) is really scary in this film! Children who don't know how old can not be scared, anyway, I was scared. If you want Anne Hathaway to keep the image of a beautiful woman in your heart, then don't look at it. I think this story itself is problematic. Everyone knows that most of the people who hurt children are men, but all those who hate and want to hurt...
[being cornered by her own cat]

Grand High Witch: Remember who it was who feeds you... No, don't think about food!

Mr Jenkins: No.

Mrs Jenkins: For God's sake, I think you're being extremely unreasonable.

Mr Jenkins: No, Deidre. For the last time, I will not have that woman in my house.

Mrs Jenkins: Oh, she's very good company.

Mr Jenkins: Absolutely not, Deidre.

Mrs Jenkins: [to Bruno] Oh, for God's sake, Bruno, your face.

[wipes his face]

Mrs Jenkins: Obviously can't take you anywhere.

Bruno Jenkins: Hey. You there, and what are you doing? Breaking and entering?

Hero Boy: Looking for a quiet spot.

Bruno Jenkins: For what?

Hero Boy: Training.

Bruno Jenkins: Training what?

[sees a mice named Daisy in his pocket shirt]

Bruno Jenkins: Cool. Super. What's his name?

Hero Boy: It's a she. And her name is Daisy.

Bruno Jenkins: Can I hold her?

Hero Boy: She's not too comfortable around strangers.

Bruno Jenkins: Can she do any tricks or anything?

Hero Boy: We were just about to do some training. Want to watch?

Bruno Jenkins: What time is it? A nice lady told me to meet her here at 12:25. She said she would give me six bars of Swiss chocolate.

Hero Boy: What's your name?

Bruno Jenkins: I'm...

Mrs Jenkins: [she enters] Bruno Jenkins. I've been looking for you everywhere, young man. Your father is furious.

Bruno Jenkins: Hello, mother. This is my new friend.

Mrs Jenkins: [to Hero Boy] Nice to meet you.

[turns back to Bruno]

Mrs Jenkins: Look at your hands, they're filthy! Look at your shirt, it's a complete mess! Come with me.

[grabbing one of Bruno's ear]

Mrs Jenkins: What have you been doing? Running around in a sausage factory?
Movies Directed by Robert Zemeckis
Movies Starring Chris Rock