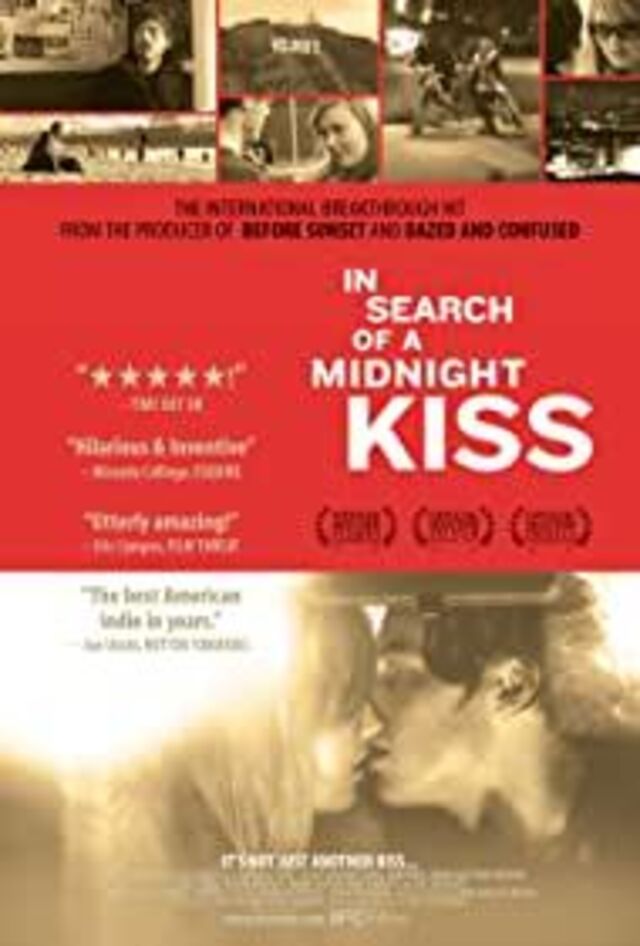 In Search of a Midnight Kiss
Director:
Alex Holdridge
Countries of origin:
United States
Language:
English
Release date:
August 1, 2008
Runtime:
1 hour 30 minutes
Sound mix:
Stereo
Aspect ratio:
1.85 : 1
Also known as:
Geceyarısı Öpücüğü
In Search of a Midnight Kiss is a comedy film directed by Alex Holdridge and starring Scooter and Sarah Symonds.
The film tells the story of love, sex and romance on New Year's Eve in Los Angeles.
Details
Release date

August 1, 2008

Filming locations

Austin, Texas, USA

Production companies

Midnight Kiss Productions (II)
Box office
Budget
$25,000 (estimated)
Gross US & Canada
$172,605
Opening weekend US & Canada
$13,385
Gross worldwide
$1,294,176
User comments
( 11 ) Add comments
By Jeromy 2022-12-11 20:54:16

Unexpectedly beautiful at the beginning, I was attracted by it, but it is quite timely to see it...

By Velda 2022-12-10 09:43:41

Music is nice. Also, the Canon they used was the same as my first digital,...

By Haley 2022-11-25 21:34:04

Don't compare it to before...

By Roxane 2022-10-12 06:10:44

Loneliness Syndrome. This is a very interesting film, with an interesting beginning, an interesting process, and an interesting ending....

By Dessie 2022-09-27 09:25:08

In 2009 cowsumy watched Karma's first super moving...
Wilson: [after posting a romantic connections ad on Craigslist] I can't believe we're doing this. We're inviting total insanity into our house.

Jacob: That's good man. You're not gonna sitting around the apartment.

Wilson: We're gonna get robbed. I'm gonna get raped!

Wilson: [On a blind date with Vivian] What are you looking for?

Vivian: The love of my life.

Wilson: On Craigslist?

Wilson: Don't you think it's that random act of unkindness from some total stranger that's the coup de grace, and then all of a sudden, boom. You're bleeding to death on the bathroom floor?
Movies Starring Scoot McNairy