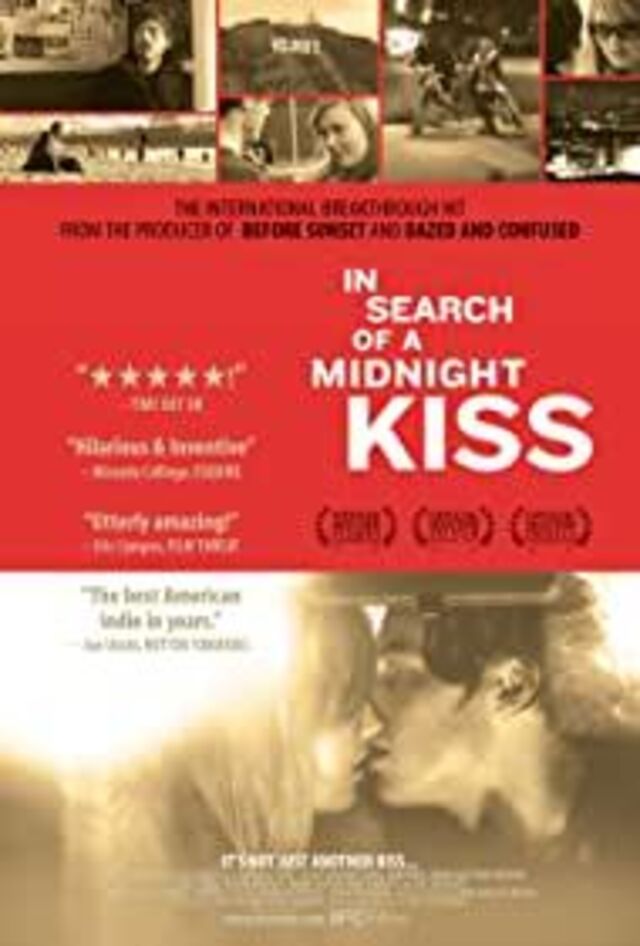 In Search of a Midnight Kiss
Director:
Alex Holdridge
Countries of origin:
United States
Language:
English
Release date:
August 1, 2008
Runtime:
1 hour 30 minutes
Sound mix:
Stereo
Aspect ratio:
1.85 : 1
Also known as:
Geceyarısı Öpücüğü
In Search of a Midnight Kiss is a comedy film directed by Alex Holdridge and starring Scooter and Sarah Symonds.
The film tells the story of love, sex and romance on New Year's Eve in Los Angeles.
Details
Release date

August 1, 2008

Filming locations

Austin, Texas, USA

Production companies

Midnight Kiss Productions (II)
Box office
Budget
$25,000 (estimated)
Gross US & Canada
$172,605
Opening weekend US & Canada
$13,385
Gross worldwide
$1,294,176
User comments
( 7 ) Add comments
By Dessie 2022-09-27 09:25:08

In 2009 cowsumy watched Karma's first super moving...

By Rhett 2022-09-22 06:37:47

It's a dialogue dialogue dialogue dialogue anyway, it makes me very...

By Jacinthe 2022-09-17 19:30:54

It's really like sunrise and sunset, but this time is stronger. Although I still love sunrise, this one is also very...

By Payton 2022-09-17 18:51:20

I feel that these people acted so real, not artificial at...

By Jeremy 2022-09-17 16:03:18

4 The most realistic model of "one night stand": chatting without a theme, being surprised all night, encountering an ex, running away holding hands, going home to sleep, and having a morning gun. This movie is too real, it's not a happy ending, but I call a cab for you, and then say, "i never forget u for ever", and then I will never see you again. The story is over, and the climax and taunting of the one-night stand begins and ends within 24...
[first lines]

Wilson: The midnight kiss. It's not just another kiss. It's all the hope of romance of the year culminating in just one moment. And that over-hyped kiss, in which there is so much calling, texting, I.M.-ing, planning, hurrying, drinking to make happen, is set at a moment when time itself takes center stage, when you can palpably feel the weight of the year to come, mix with the loneliness and missed opportunities of the years gone by.

[pause]

Wilson: For years I used to work at a video store, and on new year's, I would always deal with what I thought were my people... those brokenhearted soles that hated the whole pageantry of the night, the ones who wanted to quietly and privately wallow in their own self-pity, getting drunk on the fictional romance and heartbreak of others.

[pause]

Wilson: That was me... the lonely, hunkered-down type waiting for the night to blow over. But sometimes when you are so low you can no longer follow that routine anymore...

Jacob: Look, if you really want to meet someone who's pretty and cool and interesting, you can do that. All you have to do my friend is uh, put an ad up on the Craigslist.

Wilson: [after posting a romantic connections ad on Craigslist] I can't believe we're doing this. We're inviting total insanity into our house.

Jacob: That's good man. You're not gonna sitting around the apartment.

Wilson: We're gonna get robbed. I'm gonna get raped!
Movies Starring Scoot McNairy