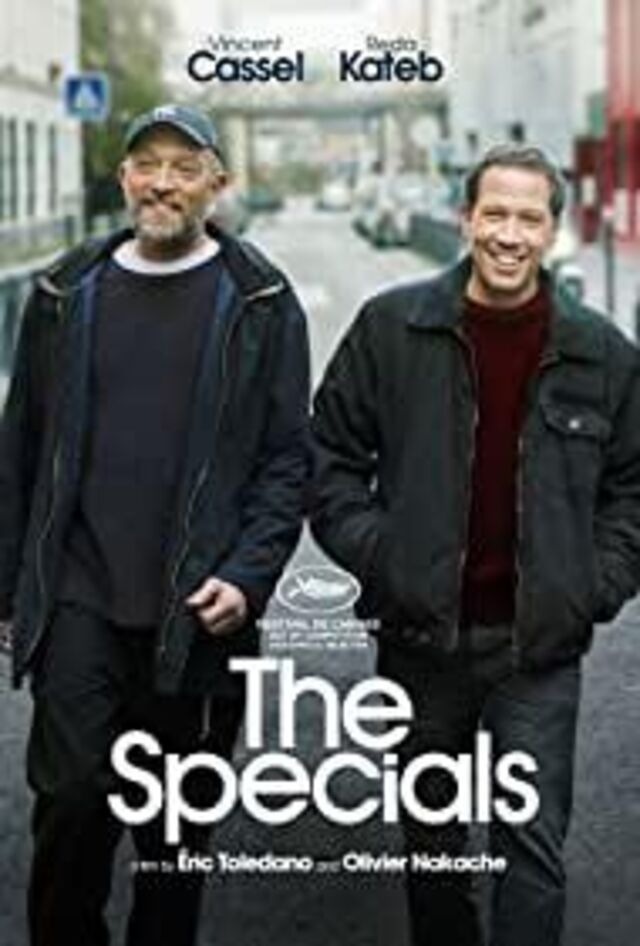 Director:
Olivier Nakache
Writer:
Olivier Nakache,Éric Toledano
Countries of origin:
France, Belgium
Language:
French
Release date:
October 23, 2019
Runtime:
1 hour 54 minutes
Aspect ratio:
2.35 : 1
Also known as:
Особливі
"Hors normes" is a feature film directed by Olivier Nakache and Eric Toledano , starring Vincent Cassel, Leda Cardib, etc. It was released in France on May 25, 2019   .
The film tells the story of two men dedicated to helping children and teens with autism.
Details
Release date

October 23, 2019

Production companies

Quad, Ten Films, TF1 Films Production
Box office
Gross worldwide
$19,389,434
Movie reviews
( 7 ) Add reviews
By Bobby 2022-09-26 18:34:37

They are a bridge beyond the norm

In fact, I knew about this movie quite a long time ago, but never watched it. Yesterday Christmas, I went to the "Autism Care" event. Because of this trivial touch, it seems to feel a little more.

beyond normal human standards

The movie begins with the point of view of a girl, shaky and blurry, just running forward with one heart and one mind. If you ignore this blurry lens, there are similar ones in the back. When the hooded Valentine was brought out for the first time,...

By Jovanny 2022-09-21 21:37:01

Except for the standard, they are all mortals

To be honest, as a fan who has seen how handsome, arrogant, sexy and wild Vincent Cassel was when he was young, I was about to cry from the moment I saw his gray hair, old wrinkles and tender eyes.

It is true that as many people have said, society is getting more and more progress, and the attitude towards autistic patients has gradually improved from cognition to concern, but about 99% of people's views on this so-called "mental disease" patient And behavior is, I know you are...

By Antonette 2022-09-21 20:39:32

What autistic people experience is not a life of another color

A look back at the 45th French César Film Awards two months ago .

It was criticized for sparking controversy by unexpectedly awarding the director's award to Roman Polanski . It also selected the well-deserved big winner "Les Miserables" .

There are so many things to...

By Rozella 2022-09-21 19:39:00

A future beyond autistic standards: some people have a choice, some people don't.

Because he wants to create a future with choices for children with autism, a future beyond the standard. That future is promising and optional. Children will eventually leave the hospital, integrate into society, and achieve self-reliance. Therefore, the concept of "House of Justice" is to unconditionally accept children with autism who have been abandoned by society.

"Beyond the Standard" is the softest movie I've seen so far this April.

If...

By Don 2022-09-21 19:34:16

I'm a star dad, and the pain I've been in for me and my kids is far greater than what's mentioned in the movie. I have tried to explain that it was not family education that caused my child to get sick, it was congenital, but my relatives and friends gave me the label of "shirk the responsibility". I tried to explain that my child was not aggressive, he It's just that I don't know how to play with your children, but in exchange, I have a "lack of public morality" of "Is it ill and brought it...
User comments
( 6 ) Add comments
By Felipe 2022-09-26 14:05:22

Very realistic and very realistic, but the script should probably have made some clearer trade-offs: the neatest solution is to focus on the character of Dylan, which is a story of mutual redemption. Old-fashioned, but effective; if the social value is to be maximized, the story should be mainly developed from the perspective of the IGAS qualification survey; if it focuses more on the character of Bruno, it becomes a biographical story about love and perseverance . If the three branches are...

By Idella 2022-09-21 23:42:57

Strictly speaking, there is no five-star, but thanks to the two heroes for not making this movie deliberately...

By Melisa 2022-09-21 17:34:13

Beyond the standard system, it is love and faith that...

By Nolan 2022-09-21 15:38:36

#72 Cannes Closing Film Premiere This year's last new film premiere, the main creators watched the film together throughout the whole process, and the applause received after the end lasted for a long, long time. Sitting in a cinema with Vincent Cassel watching his own film, this experience once again overturned the boundaries of the virtual and the real. The group portraits about social issues are reminiscent of "Unreachable". The script takes care of many branches. The relationships of...

By Colleen 2022-09-21 15:19:01

Clean and loud, I like...
Movies Directed by Olivier Nakache
Movies Starring Vincent Cassel