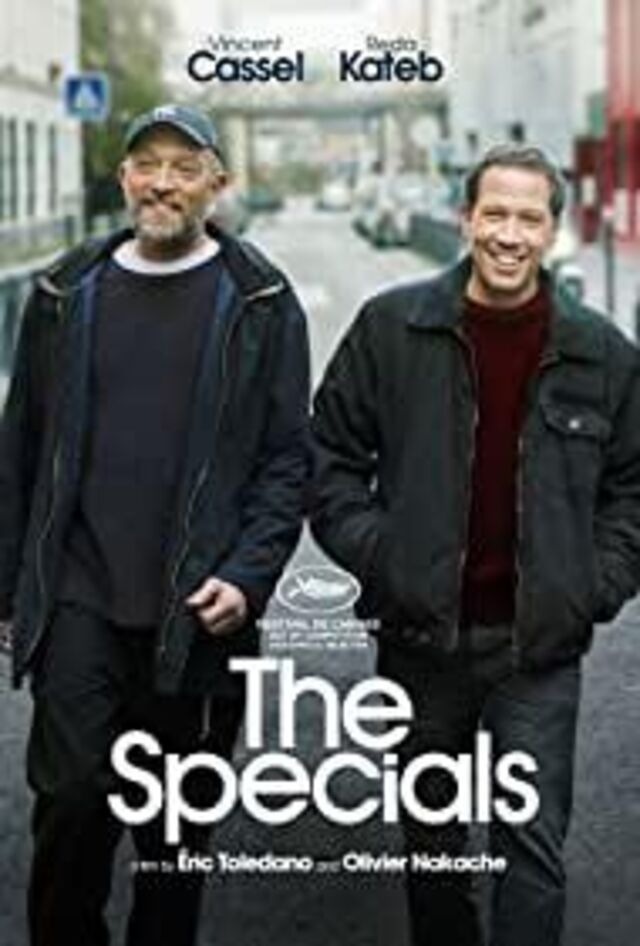 Director:
Olivier Nakache
Writer:
Olivier Nakache,Éric Toledano
Countries of origin:
France, Belgium
Language:
French
Release date:
October 23, 2019
Runtime:
1 hour 54 minutes
Aspect ratio:
2.35 : 1
Also known as:
Особливі
"Hors normes" is a feature film directed by Olivier Nakache and Eric Toledano , starring Vincent Cassel, Leda Cardib, etc. It was released in France on May 25, 2019   .
The film tells the story of two men dedicated to helping children and teens with autism.
Details
Release date

October 23, 2019

Production companies

Quad, Ten Films, TF1 Films Production
Box office
Gross worldwide
$19,389,434
Movie reviews
( 36 ) Add reviews
By Nick 2022-12-29 16:17:02

Adapting to reality has reference significance for localization

As a social work student, it is a learning perspective. Even in Europe, where social work originated, there is still social policy and implementation in the grassroots community. When the client is a special child, a civil society organization does not have expertise in children's social work and medical (mental health) However, keeping the minimum level of education and rehabilitation at least gives the client a place to seek medical treatment and has the advantage of...

By Earline 2022-12-29 01:28:40

21.05.09 The French three-star half-shot is still superficial, but it is definitely an example that can be used by teachers as lectures. When I think of myself as a volunteer in caring activities for autistic patients and special groups, I can't help but arouse a burst of empathy. The difference is that the establishment of the two transit stations is still within the city limits, and the two locations where I do volunteer activities are located on the edge of the city for financial...

By Lysanne 2022-12-24 05:24:32

Those who have seen it or not, all know that this is a movie about people with autism. Autism, I only know the skin, think about it, this is one of the diseases that was only known to the public in the 1970s. The term autism did not appear until the 1940s.

You realize how recently this was discovered. Before it was discovered, there may have been countless children who had experienced this affliction and who were likely...

By Myrtice 2022-12-23 23:11:39

The film is adapted from a true story. Bruno and Markley each run a non-profit organization, and they collaborate with each other. Bruno's agency focuses on caring and educating people with severe autism. Markley's agency trains young people to work as carers in impoverished areas. Institutions do not have legal permission, and the nurses trained have no diplomas, and everything is outside the standards set by society. It is true that many bad things are easy to breed in...

By Reagan 2022-12-21 01:19:50

Not deliberate, not pretentious, not extreme, indeterminate

Another masterpiece from the French Afro-Jewish director duo (would there be too many labels). I even think it's better than "Untouchable" because the latter is too thematic and predictable.

This time the focus is on people with severe autism and the institutions that care for them. Because of the seriousness of the illness and the situation, it is difficult for the director to even insert suitable jokes to adapt to their signature tragicomedy style,...
User comments
( 25 ) Add comments
By Jovani 2023-09-10 21:20:28

The soundtrack frequently uses drums and keys in lieu of psychic thrills. The boy in the hockey helmet put his hand on the horse's head and then on the nurse's face, and there was a gentleness in the sound of blood in the soundtrack. Joseph stepped out of the subway, safe and sound, as if a kind of hero was born and deserves to be applauded. The tension/wrestling between bureaucracy and bureaucracy and civil autonomy is an experiment in morality. Beyond the so-called standard, is to trade the...

By Elbert 2023-08-23 17:01:11

Applause for two men, really great. In fact, in that country, some religions and some systems will have this kind of problem at a certain stage of development. When doing one thing, no one is willing to do it well in the way of compliance, and the way of non-compliance will face legal risks. In my opinion, the only way to solve this situation in the future is for the government to outsource the purchase of social services, and then rely on AI to supervise and inspect, which can not only do good...

By Clark 2023-08-04 16:25:34

How many kind-hearted people are willing to spend so much time and energy caring for someone with autism or other diseases? (Bruno: …why have the local health ministries, children's rights associations, courts, doctors, hospitals been calling me every day for fifteen years, wondering if we can still take in other children? Why do I have to take care of forty children day and night? But while I'm talking to you, there are fifty kids waiting, why are they always knocking on the door?...) I can't...

By Kristoffer 2023-08-02 19:17:41

After watching a lot of French movies, I seem to see its background: love and revolution. This kind of love is a rainbow that connects all kinds of things; that kind of revolution is the kind of fire that everyone gathers firewood for. The rainbow and the fire, which complement each other above and below every landmark in France, are blue, white, and red, freedom, fraternity, and...

By Darian 2023-07-23 09:05:17

One of the most precious qualities in this world is...
Movies Directed by Olivier Nakache
Movies Starring Vincent Cassel