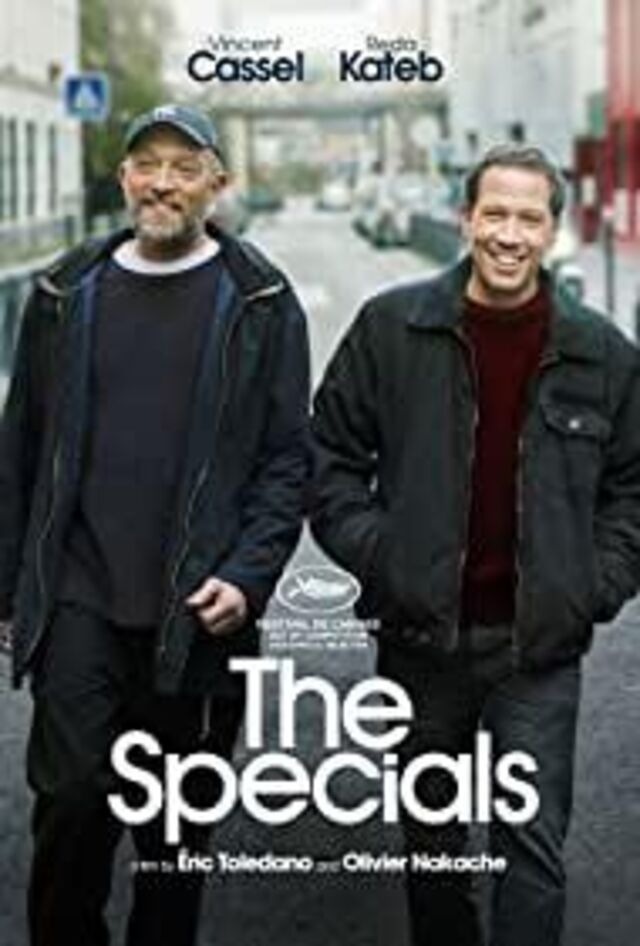 Director:
Olivier Nakache
Writer:
Olivier Nakache,Éric Toledano
Countries of origin:
France, Belgium
Language:
French
Release date:
October 23, 2019
Runtime:
1 hour 54 minutes
Aspect ratio:
2.35 : 1
Also known as:
Особливі
"Hors normes" is a feature film directed by Olivier Nakache and Eric Toledano , starring Vincent Cassel, Leda Cardib, etc. It was released in France on May 25, 2019   .
The film tells the story of two men dedicated to helping children and teens with autism.
Details
Release date

October 23, 2019

Production companies

Quad, Ten Films, TF1 Films Production
Box office
Gross worldwide
$19,389,434
Movie reviews
( 36 ) Add reviews
By Nick 2022-12-29 16:17:02

Adapting to reality has reference significance for localization

As a social work student, it is a learning perspective. Even in Europe, where social work originated, there is still social policy and implementation in the grassroots community. When the client is a special child, a civil society organization does not have expertise in children's social work and medical (mental health) However, keeping the minimum level of education and rehabilitation at least gives the client a place to seek medical treatment and has the advantage of...

By Earline 2022-12-29 01:28:40

21.05.09 The French three-star half-shot is still superficial, but it is definitely an example that can be used by teachers as lectures. When I think of myself as a volunteer in caring activities for autistic patients and special groups, I can't help but arouse a burst of empathy. The difference is that the establishment of the two transit stations is still within the city limits, and the two locations where I do volunteer activities are located on the edge of the city for financial...

By Lysanne 2022-12-24 05:24:32

Those who have seen it or not, all know that this is a movie about people with autism. Autism, I only know the skin, think about it, this is one of the diseases that was only known to the public in the 1970s. The term autism did not appear until the 1940s.

You realize how recently this was discovered. Before it was discovered, there may have been countless children who had experienced this affliction and who were likely...

By Myrtice 2022-12-23 23:11:39

The film is adapted from a true story. Bruno and Markley each run a non-profit organization, and they collaborate with each other. Bruno's agency focuses on caring and educating people with severe autism. Markley's agency trains young people to work as carers in impoverished areas. Institutions do not have legal permission, and the nurses trained have no diplomas, and everything is outside the standards set by society. It is true that many bad things are easy to breed in...

By Reagan 2022-12-21 01:19:50

Not deliberate, not pretentious, not extreme, indeterminate

Another masterpiece from the French Afro-Jewish director duo (would there be too many labels). I even think it's better than "Untouchable" because the latter is too thematic and predictable.

This time the focus is on people with severe autism and the institutions that care for them. Because of the seriousness of the illness and the situation, it is difficult for the director to even insert suitable jokes to adapt to their signature tragicomedy style,...
User comments
( 9 ) Add comments
By Maverick 2022-12-29 22:31:30

Those who survive outside the standard and within the closed circle are not only the patients, but also their family members, institutions and social workers engaged in related work. The play radiates the face of the entire autism-related population through the connection between key patients and the role of social workers. With a sincere creative attitude, I almost completed a record, and many of the touched moments (not cheap sensationalism) are almost the same when I think of the self-report...

By Mylene 2022-12-06 01:13:04

The warm essay interprets a story of great love. It focuses too little on the inner order of autistic patients and their families and the operational dilemma of civil organizations, leaving only French romance and brilliance of humanity. But the story is still very moving, atypical love dedicated to atypical...

By Reginald 2022-12-05 23:29:57

I went to see this movie with Julia, and we both kept saying that this movie was great. If I could make a movie, this should be the type I would most like to make. Reality, real people The adaptation of a true story, although heavy and critical, still gives people courage and hope. The film discusses the care and social integration of people with mental disorders. What is valuable is that no matter how difficult it is, there are always people doing something, and they are real...

By Felipe 2022-09-26 14:05:22

Very realistic and very realistic, but the script should probably have made some clearer trade-offs: the neatest solution is to focus on the character of Dylan, which is a story of mutual redemption. Old-fashioned, but effective; if the social value is to be maximized, the story should be mainly developed from the perspective of the IGAS qualification survey; if it focuses more on the character of Bruno, it becomes a biographical story about love and perseverance . If the three branches are...

By Idella 2022-09-21 23:42:57

Strictly speaking, there is no five-star, but thanks to the two heroes for not making this movie deliberately...
Movies Directed by Olivier Nakache
Movies Starring Vincent Cassel