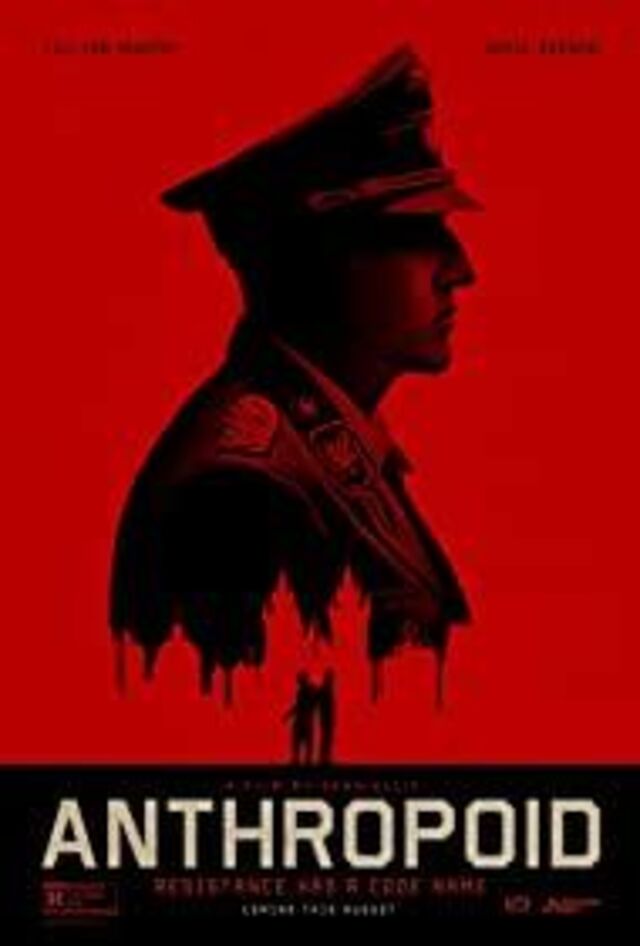 Director:
Sean Ellis
Writer:
Sean Ellis,Anthony Frewin
Countries of origin:
Czech Republic, United Kingdom, United States, France
Language:
English, Czech, German
Release date:
September 9, 2016
Sound mix:
Stereo
Aspect ratio:
2.35 : 1
Also known as:
Operación Anthropoid
"Anthropoid" is a thrilling historical story directed by Sean Ellis and starring Jamie Dornan and others. The film tells the story of an assassination of Reinhard Tristan Eugen Heydrich , a senior Nazi official, by two paratroopers of The Czech Republic .
Details
Release date

September 9, 2016

Filming locations

Saints Cyril and Methodius Cathedral, Prague, Czech Republic

Production companies

LD Entertainment, 22h22, Lucky Man Films
Box office
Gross US & Canada
$2,964,845
Opening weekend US & Canada
$1,233,519
Gross worldwide
$5,079,219
User comments
( 8 ) Add comments
By Benny 2022-09-28 10:51:54

It might be better to get rid of the romance...

By Josiane 2022-09-27 00:50:17

When is the time for...

By Monica 2022-09-04 16:38:03

There is not much ideological entanglement, but it truly reflects the choices made by a few small people in the face of national and national hatred, and the sacrifices they paid for this belief. Cruel details like the torture of the child learning the piano and the old man who couldn't find potassium cyanide when the Gestapo...

By Janiya 2022-08-05 22:03:44

the cruelty of war,successful assassination of nazi,always we lose will to fight in face of terror,but there is sth more important than...

By Thora 2022-08-05 20:22:08

Kill one enemy and lose 5k+. . . Why not give Ata a cyanide, he is so miserable. . The BG plot is embarrassing/urgent. . . Check out that Church when you go to Prague....
Josef Bublík: 'Cowards die many times before their deaths; The valiant never taste of death but once.' That's Shakespeare.

Marie Kovárníková: You're going to murder Heydrich?

Josef Gabcík: Assassinate... murder implies he had a life worth living

Torturer: We managed to save your mother... and here she is

[shows off her severed head]
Movies Directed by Sean Ellis
Movies Starring Jamie Dornan