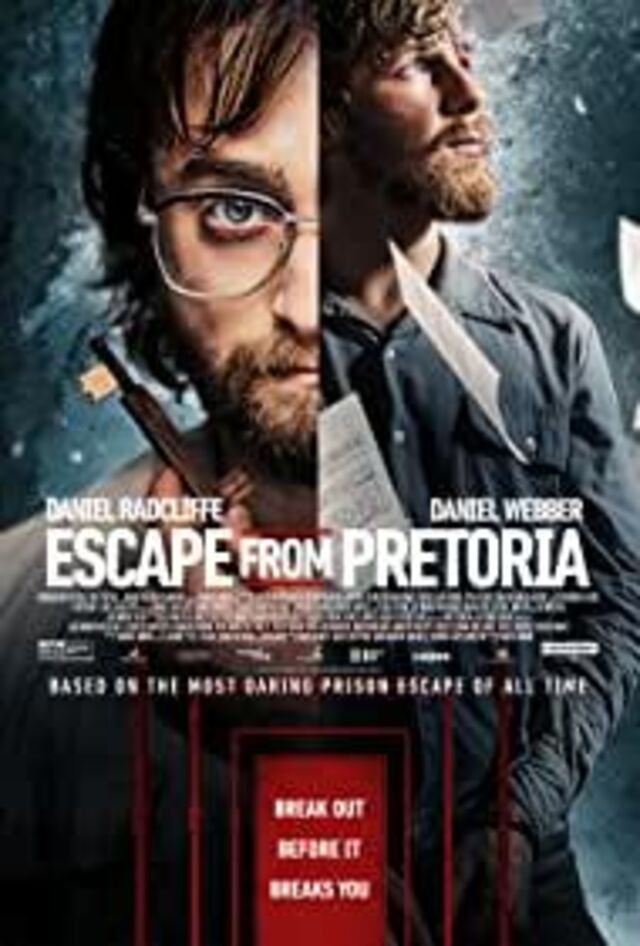 Director:
Francis Annan
Writer:
Francis Annan,L.H. Adams,Tim Jenkin
Countries of origin:
United Kingdom, Australia, United States, South Afric
Language:
English, French
Release date:
March 6, 2020
Aspect ratio:
2.39 : 1
Also known as:
Phi Vụ Đào Tẩu
"Escape from Pretoria" is a thriller drama directed by Francis Annan, starring Daniel Radcliffe, Ian Hart , Daniel Weber and others. It will be released in the UK on March 6, 2020.
The film is adapted from real events. It tells the story of Tim Jenkin, a white South African who participated in the secret anti-apartheid operation of the African People's Congress, was regarded as a terrorist and went to jail, and planned to escape.
Details
Release date

March 6, 2020

Filming locations

Adelaide, South Australia, Australia

Production companies

Footprint Films, Beagle Pug Films, MEP Capital
Box office
Gross worldwide
$2,431,995
User comments
( 30 ) Add comments
By Annetta 2023-08-14 06:15:22

It is amazing that people can continue to escape to London after they have successfully escaped from...

By Bernhard 2023-08-07 09:49:23

Relying on the key to escape, really...

By Marion 2023-08-07 03:22:10

It's ok to be...

By Einar 2023-07-28 02:11:50

Based on real events, the means of escape from prison is very basic due to age issues, but the rhythm and atmosphere of the movie is not bad, which can arouse your nervousness! If you ignore some of the real historical and political issues behind this, it will be regarded as a prison escape thriller. The film is okay! In addition, Daniel has been trying various roles and constantly looking for breakthroughs, but after so many years, it is a pity that everyone's first reaction when they see him...

By Louvenia 2023-05-24 18:24:41

Is Harry Potter growing taller? Only when we lived in the era of 1978 would there be no surveillance, the opportunity to make wooden keys, and it would be a street when we walked out....
Denis Goldberg: Don't run away, stay and fight!

Tim Jenkin: [holds up a key] This is how we fight!
Movies Starring Daniel Radcliffe