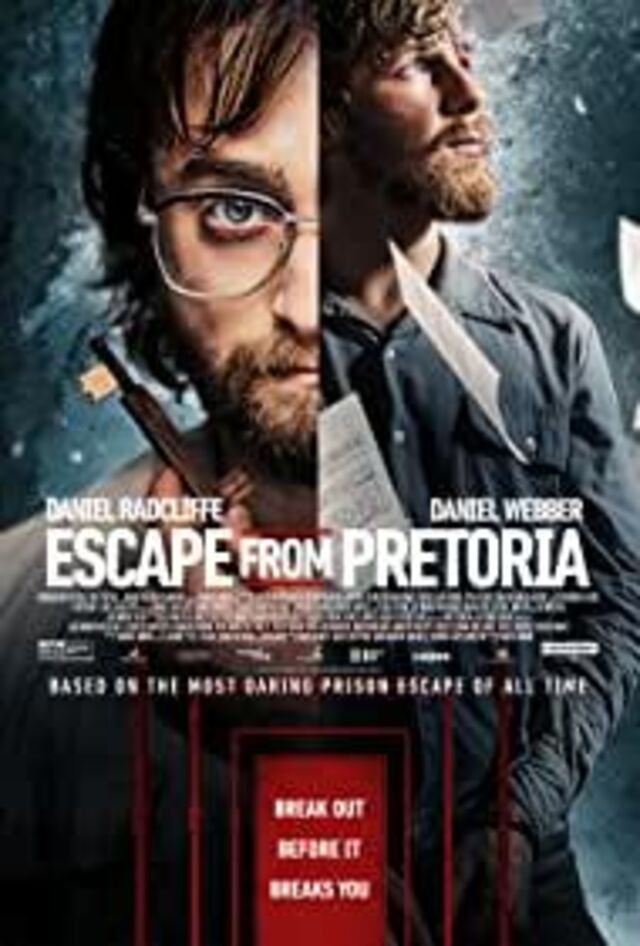 Director:
Francis Annan
Writer:
Francis Annan,L.H. Adams,Tim Jenkin
Countries of origin:
United Kingdom, Australia, United States, South Afric
Language:
English, French
Release date:
March 6, 2020
Aspect ratio:
2.39 : 1
Also known as:
Phi Vụ Đào Tẩu
"Escape from Pretoria" is a thriller drama directed by Francis Annan, starring Daniel Radcliffe, Ian Hart , Daniel Weber and others. It will be released in the UK on March 6, 2020.
The film is adapted from real events. It tells the story of Tim Jenkin, a white South African who participated in the secret anti-apartheid operation of the African People's Congress, was regarded as a terrorist and went to jail, and planned to escape.
Details
Release date

March 6, 2020

Filming locations

Adelaide, South Australia, Australia

Production companies

Footprint Films, Beagle Pug Films, MEP Capital
Box office
Gross worldwide
$2,431,995
User comments
( 23 ) Add comments
By Layne 2023-03-19 04:50:20

The atmosphere is still...

By Jake 2023-03-15 19:22:11

Reminds me of that, escape cable or...

By Virgil 2023-03-11 16:43:11

Not bad, but the eyes in the dark are more...

By Watson 2023-02-21 07:57:30

A small-cost movie is considered a very successful one. Looking at the short commentary, it turns out that the Frenchman is acting himself! ? ! ? Expressed shock! I really took a sigh of relief as I watched the escape. I always felt that there was a prison guard behind which door they opened... It was so nervous that it exploded! The atmosphere is great. Also, my Harry Potter, you really make me forget how tender you...

By Alice 2023-02-20 08:56:31

The characters and background settings are destined to be quite satisfactory in the plot, and there is no surprise in any...
Denis Goldberg: Don't run away, stay and fight!

Tim Jenkin: [holds up a key] This is how we fight!
Movies Starring Daniel Radcliffe