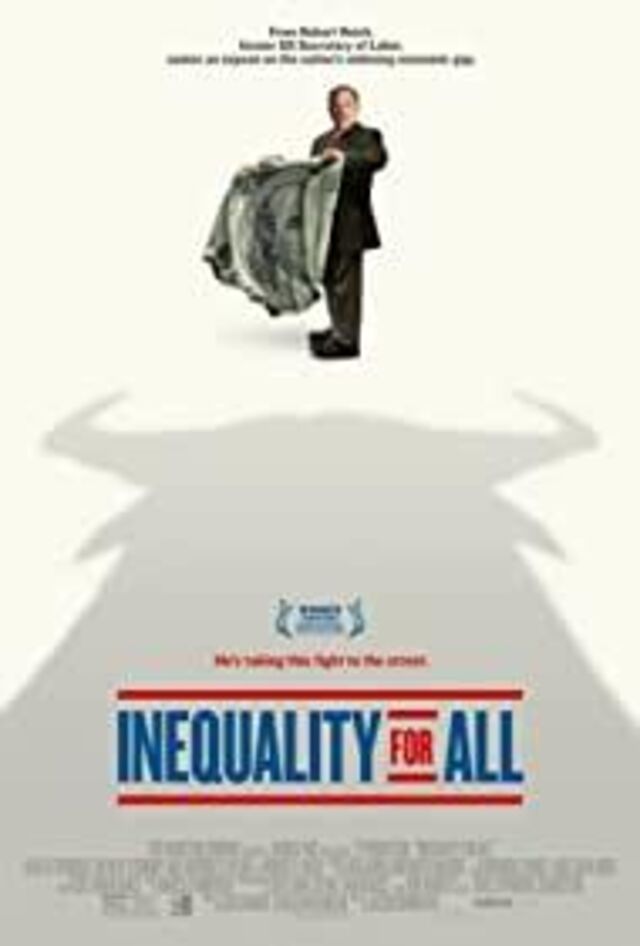 Director:
Jacob Kornbluth
Countries of origin:
United States
Language:
English
Release date:
April 24, 2015
Runtime:
1 hour 29 minutes
Aspect ratio:
1.78 : 1
Also known as:
Desigualdad para todos
"Inequality for All" is an American documentary directed by Jacob Kornbluth, which won the Special Jury Prize (Documentary) at the 29th sundance film festival .
Details
Release date

April 24, 2015

Filming locations

University of California, Berkeley, California, USA

Production companies

72 Productions
Box office
Gross US & Canada
$1,205,273
Opening weekend US & Canada
$140,888
Gross worldwide
$1,205,273
Movie reviews
( 5 ) Add reviews
By May 2022-09-20 23:48:15

Documentary with frequent golden sentences

I generally don't like documentaries with such obvious tendencies, but many viewpoints are very pleasing.

Rightist argument: You call them the rich, I call them job creators. How can we keep the economy growing while raising tax on job creators?

Leftist company CEO replies: When somebody calls themselves job creators, they are not describing the economy, or how the economy works, although it sounds like so. What...

By Guy 2022-09-20 21:24:21



1. The instantaneous expansion of financial markets in the 1990s is likely to be directly related to the Clinton administration's relaxation of financial market-related policies. Since Clinton's 1992 presidential campaign pledged to take action against income inequality, the top 1 percent of CEOs have invested in the stock market and transformed their assets. This has fed a group of Wall Street giants.

2. The three line graphs shown in the film—the economic ups and...

By Margaretta 2022-09-20 15:35:50

The anger of the people at the bottom

The just past US election has surprised many scholars and prompted more people to think: What the hell is going on in this world? We grew up in the era of the Internet economy, and the mainstream discourse we received since childhood is that we live in "the best era". However, when we grow up enough to explore the outside world, we discover that the world is never that good. From a longer period of time, the turmoil in the Arab world, the refugee crisis in Europe, Brexit, Trump's...

By Zechariah 2022-09-20 15:06:50

Made me see a different America

The protagonist of the documentary, a former labor secretary under Clinton, is also an economist.

It's about the wealth gap in America.

There is an interesting point at the beginning of the documentary, several celebrities guess the gap between the rich and the poor in the United States

Unexpectedly, the United States is still ranked behind Côte d'Ivoire and Cameroon

By Alessandro 2022-09-20 13:40:30

Very emotional movie. several takeaways

- It turns out that the financial market boom that started in the 1990s is the reason. . I always thought it was globalization, technological development and Clinton's political achievements. Therefore, the final development of many things can completely deviate from the original intention. But neither is it good or bad.

- For the first time as a financial student, I truly understand why...
User comments
( 5 ) Add comments
By Laila 2022-09-20 22:22:44

Is there such a person in our country who is in an important position and is dedicated to the good of the middle...

By Elfrieda 2022-09-20 22:09:50

American economic and political science, Mauseton...

By Elouise 2022-09-20 21:12:20

If you often watch leftist talkshows, you will often see Roberto Reich, and the three views are still very positive. Resigning and going home is probably also helpless to C's...

By Ephraim 2022-09-20 15:58:22

Clinton campaign slogan in 1992: Put your people first. Oh, people-oriented, maybe copied from here. In the Reagan era, the top income tax rate was greatly reduced to 28%, coupled with the decline in middle-class fees and consumption, which inevitably ushered in a budget crisis, which inevitably led to a decline in the proportion of higher education investment, rising tuition fees, and a decline in class mobility. Uncle Jon angrily scolded Fox Taiwan SX. Income disparity is positively...

By Eliseo 2022-09-20 15:01:11

American Dream...
Movies Starring Lily Tomlin