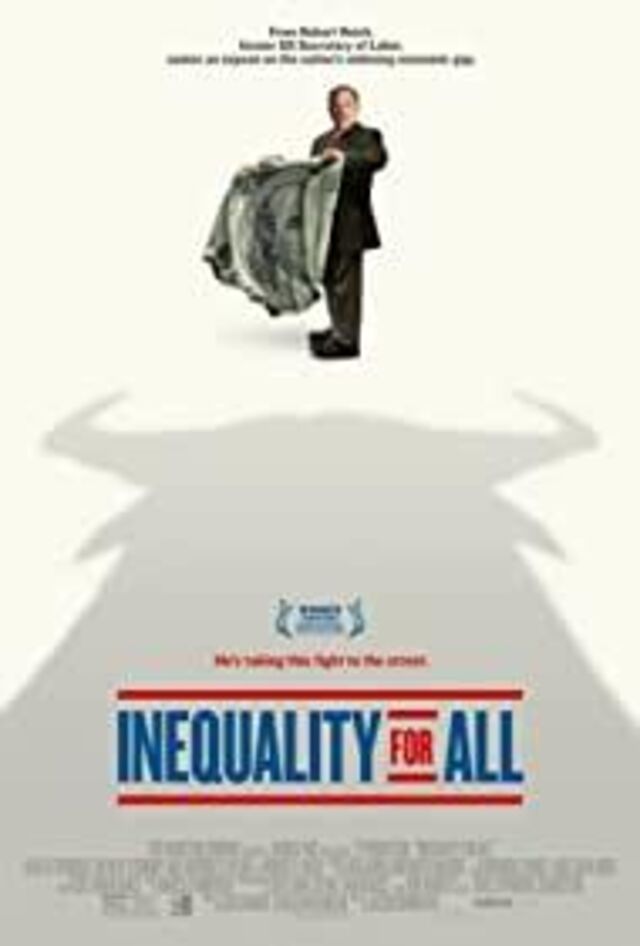 Director:
Jacob Kornbluth
Countries of origin:
United States
Language:
English
Release date:
April 24, 2015
Runtime:
1 hour 29 minutes
Aspect ratio:
1.78 : 1
Also known as:
Desigualdad para todos
"Inequality for All" is an American documentary directed by Jacob Kornbluth, which won the Special Jury Prize (Documentary) at the 29th sundance film festival .
Details
Release date

April 24, 2015

Filming locations

University of California, Berkeley, California, USA

Production companies

72 Productions
Box office
Gross US & Canada
$1,205,273
Opening weekend US & Canada
$140,888
Gross worldwide
$1,205,273
User comments
( 13 ) Add comments
By Clementina 2023-03-23 02:47:30

The economic crisis is related to consumption power. 1% cannot provide more consumption. The middle class is the main body of the market. The rich people save all the money they earn and do not consume it, and how much tax they pay is very important. The highest level of personal income tax, the United States went from 91% to 70%, and when it came to Reagan, it was reduced to 50%. Now it seems to be 37%? The rich are earning more and more, so that the candidates for president are all...

By Karl 2023-03-14 02:44:44

Off topic, every day in Berkeley feels that no matter how small it is, it can change the world....

By Nicholaus 2023-02-13 02:19:20

A documentary about the widening gap between rich and poor in the United States, worth...

By Jacklyn 2022-12-15 13:27:25

2013/09/27 It's like a personal biography, and it's like publicity for an open class. What does it mean to interview a few working families sporadically? It is estimated that taking a class by Robert Reich is more systematic and intuitive than watching this film.

By Darius 2022-12-01 03:03:21

I remember that Chen Zhiwu also wrote some of these points. Every technological innovation of the Industrial Revolution and subsequent globalization has continued to exacerbate the polarization of wealth, and tax policies and financial instruments are essentially a retreat until the middle class has nowhere to go. Either continue to be a screw in the capitalist world, or jump out and do something. Tears at the...
Movies Starring Lily Tomlin