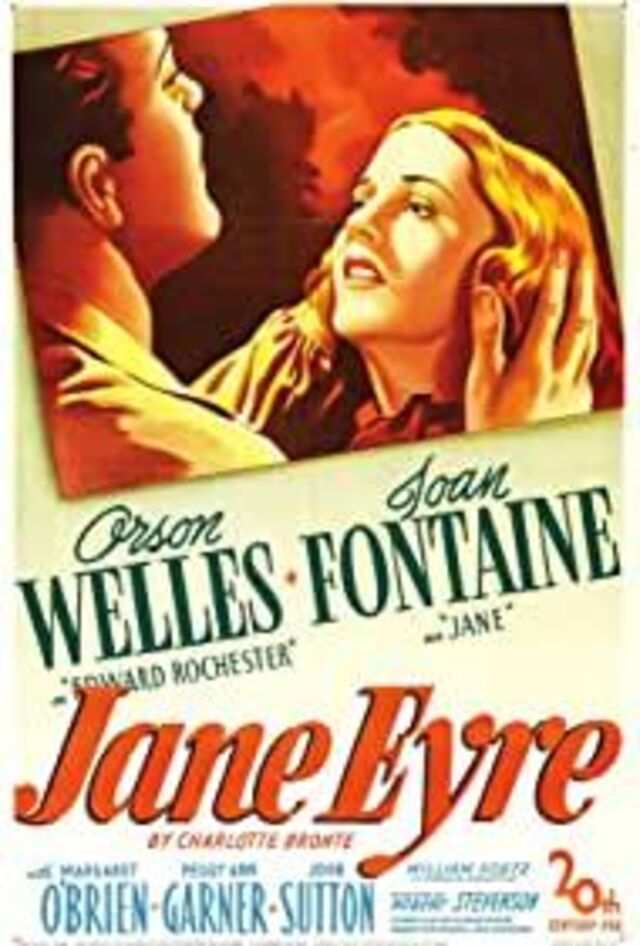 Director:
Robert Stevenson
Writer:
Charlotte Brontë,Aldous Huxley,Robert Stevenson
Countries of origin:
United States
Language:
English
Release date:
April 7, 1944
Runtime:
1 hour 37 minutes
Aspect ratio:
1.37 : 1
Also known as:
Alma rebelde
Jane Eyre is a feature film directed by Robert Louis Stevenson and starring Joan Fontaine and Orson Welles . It was released in the United States on February 3, 1944.
The film is adapted from the novel of the same name by the British female writer Charlotte Brontë , and tells the story of Jane Eyre, a young girl from poverty who got a chance to leave the orphanage and become a nanny for a little girl in a mysterious castle. 
Details
Release date

April 7, 1944

Filming locations

Stage 2, 20th Century Fox Studios - 10201 Pico Blvd., Century City, Los Angeles, California, USA

Production companies

Twentieth Century Fox
Box office
Budget
$1,705,000 (estimated)
Movie reviews
( 18 ) Add reviews
User comments
( 15 ) Add comments
By August 2023-01-18 16:42:35

I never liked Orson Welles even after I watched Citizen Kane, and then I saw Bergman or whoever rated him that way, which made me a little smug inside. I don't know what year I saw it, record...

By Gennaro 2022-12-30 01:34:42

[Supplementary standard] "2020-5-5 ♥ Online Disk Collection of Shanghai Translation Classics" cast the screen to see the memory of the VCD...

By Augustine 2022-12-29 00:53:33

A classic that can never be replaced in my heart. Orson Welles will always be my Rogers, and Fontaine will speak for the stubborn woman in my heart, Jane. Forever. What's more, there was that sad little Helen, Elizabeth Taylor, who was a peerless visit to China. It's nice that I grew up with the...

By Fredy 2022-12-18 05:12:02

Fontaine is much better here than The Butterfly Dream. But Rochester is a complete...

By Domenica 2022-12-09 21:51:24

Literature and film appreciation class, I didn't know who Orson was at the time......
Edward Rochester: Whatever happens, do not move from here. Whatever happens, do not open a door. Either door.

Mason: She sank her teeth into me like a tigress. She said she'd drain my heart's blood.

Edward Rochester: Hurry. We must have him off. I've tried so long to avoid exposure. I shall make very certain it doesn't come now.
Movies Directed by Robert Stevenson
Movies Starring Orson Welles