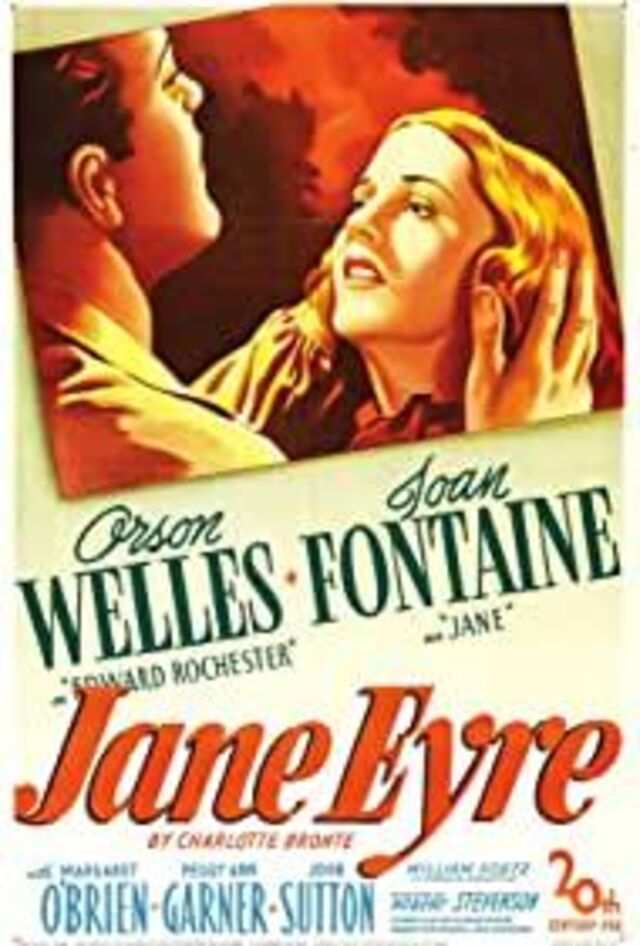 Director:
Robert Stevenson
Writer:
Charlotte Brontë,Aldous Huxley,Robert Stevenson
Countries of origin:
United States
Language:
English
Release date:
April 7, 1944
Runtime:
1 hour 37 minutes
Aspect ratio:
1.37 : 1
Also known as:
Alma rebelde
Jane Eyre is a feature film directed by Robert Louis Stevenson and starring Joan Fontaine and Orson Welles . It was released in the United States on February 3, 1944.
The film is adapted from the novel of the same name by the British female writer Charlotte Brontë , and tells the story of Jane Eyre, a young girl from poverty who got a chance to leave the orphanage and become a nanny for a little girl in a mysterious castle. 
Details
Release date

April 7, 1944

Filming locations

Stage 2, 20th Century Fox Studios - 10201 Pico Blvd., Century City, Los Angeles, California, USA

Production companies

Twentieth Century Fox
Box office
Budget
$1,705,000 (estimated)
Movie reviews
( 8 ) Add reviews
By Newell 2022-09-29 01:35:53

An idealized story that meets the needs of women

This is an idealized ending to a story in the mind of a woman. The female protagonist started out in poverty and continued to improve herself. In the end, she also became an aristocrat because of her inheritance, completing the status change; although the male protagonist had a good status, he was a madman in the early stage, leaving behind an unbearable love history. There was a crazy wife and an orphaned daughter in the castle, and he finally paid the price. , be free.

Both of...

By Dasia 2022-09-22 11:01:03

The beauty of an adaptation lies in the ability to condense the climax of a thick book, and then connect it seamlessly with the right amount of casting and acting.
When all the lines were memorized, I was already numb to the content, but when I read it after four or five years, I was still amazed at the many small details: Bessie's bow brooch, Jane Eyre being molested by a fat man at George's Tavern, Adele Er's Dance Music Box... None of these books appear, but they are not obtrusive at...

By Pamela 2022-09-21 11:54:16

I watched it when I was a child, and I felt scared when I saw Jane Eyre and her friends standing on the chair, and there was a psychological shadow for a while. Seeing Rochester and his crazy wife felt like watching a horror movie. Don't watch it until you've finished it. After reading the novel after growing up, I read it again, and I realized the charm of the classics. The beautiful Qiong Fontaine is Jane Eyre, I believe in love! , Jane Eyre never felt inferior because she was a low-status...

By Antwan 2022-09-15 22:14:27

[Film Review] Jane Eyre (1943) 7.5/10

Chiefly remembered as a solid hired hand for Disney, and their collaboration's unequivocal apex arrives with MARRY POPPINS (1964), but two decades before that, UK director Robert Stevenson has made a splash with the adaptation of Charlotte Brontë's timeless JANE EYRE, starring Joan Fontaine as our titular heroine and Orson Welles as Edward Rochester, both in their prime of...

By Esmeralda 2022-09-15 19:46:19

The black and white film I saw in ICS recently should be very old.

Jane Eyre is my favorite novel. I sat down to read it with high expectations, but I almost vomited after reading it. When the heroine looked at Rochester with the 45-degree affectionate eyes that were used in romance films of that era, I finally got angry.

In the whole film, the actress's performance completely deviates from the original work. She is tearful at every turn, her eyes are affectionate, and...
User comments
( 5 ) Add comments
By Hubert 2022-09-15 21:51:05

Die-hard fans of the original book probably won't be too satisfied with this movie version, and indeed a lot of content has been deleted, such as Jane Eyre's growth at Lowood School after Helen's death, some scenes of Rochester's daughter Adele, the wedding dress scandal, and Jane Eyre's growth at Lowood School after Helen's death. Ai's long experience after leaving the manor (not just the plots of being rescued, inheriting the inheritance, etc., the character of St. John was directly erased),...

By Lolita 2022-09-15 20:21:37

I prefer black and white movies. This is the first movie I watched. It was very unforgettable. Qiong Fang Deng played himself, although it may deviate from the original work, but that resentful eye movement is really moving! Do you think that because I am poor, humble, short, and not beautiful, I have no soul and no heart? you are...

By Ayden 2022-09-15 20:20:50

Compared with the later version, this Jane is a bit too...

By Aracely 2022-09-15 20:05:51

I like it very much, it's really well shot, in line with the original. Jane Eyre is not beautiful as described in the original, but Rochester is more able to capture the hearts of girls than in the...

By Ambrose 2022-09-15 17:19:46

Wow, I saw this movie in high school. It's Orson Welles! !...
Edward Rochester: Do you play the piano?

Jane Eyre: A little.

Edward Rochester: Of course. That's the established answer.

Edward Rochester: Excuse my tone of command. I'm used to saying, ''Do this,'' and it is done. I cannot alter my customary habits.

Edward Rochester: Take a candle with you. Leave the door open. Sit down at the piano. Play a tune.

[Jane plays]

Edward Rochester: Enough! You play a little, I see, like any other English schoolgirl. Perhaps rather better than some, but not well.
Movies Directed by Robert Stevenson
Movies Starring Orson Welles