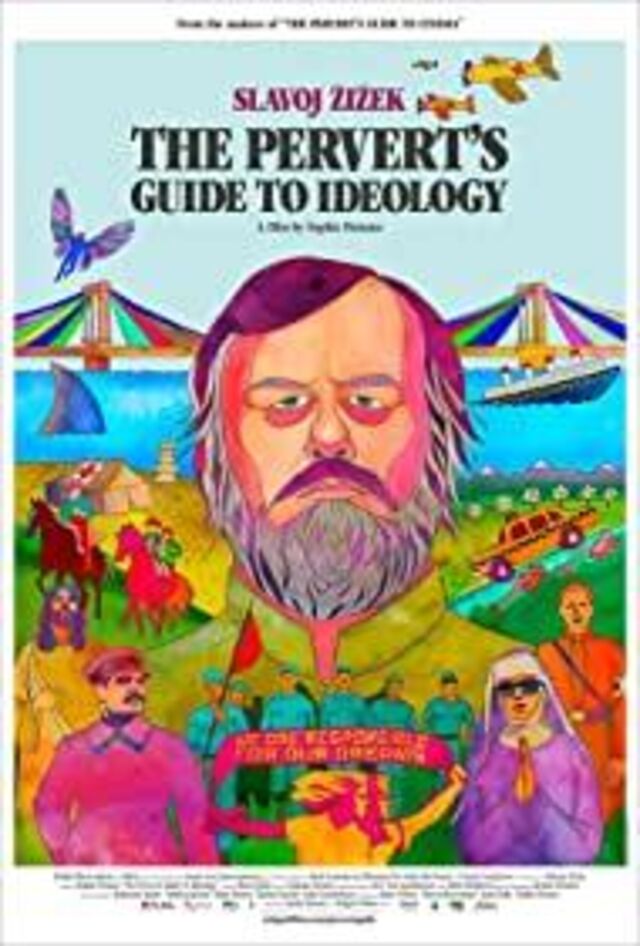 The Pervert's Guide to Ideology
Director:
Sophie Fiennes
Countries of origin:
United Kingdom, Ireland
Language:
English
Release date:
November 1, 2013
Runtime:
2 hours 16 minutes
Sound mix:
Dolby Digital
Also known as:
The Pervert's Guide
The Pervert's Guide to Ideology is a documentary film directed by Sofia Finis.
Details
Release date

November 1, 2013

Filming locations

Death Valley, California, USA

Production companies

Blinder Films, British Film Institute (BFI), Film4
Box office
Gross US & Canada
$67,966
Opening weekend US & Canada
$9,165
Movie reviews
( 35 ) Add reviews
By Alphonso 2022-12-31 21:12:49

In postmodern society, pleasure has become a bizarre, deformed responsibility. What people desire is the desire itself, the desire to "continue to desire", and when the desire is satisfied, the desire ceases to exist. Without desire, people fall into depression.

We are not talking about the actual commodity, but its added value. In the past, consumerism was still pure, and now consumption has added donations, responsibilities, feelings, etc. to offset your guilt about consumption....

By Clemmie 2022-12-30 12:17:23

The Pervert's Guide to Ideology

This film is an ideological review. 1. Coke is the best description of a commodity that makes you happy. Desire is for the acquisition of desire itself, unless the desire goes bad. "Ode to Joy" is liked by fascist Germany, Europe, America, and Latin American communism. Beethoven's music belongs to ideology. 2. Alex in A Clockwork Orange is out of a fixed position in society. The smashing, smashing and looting in the UK in 2013 is an ideological social behavior of equality and fraternity....

By Kassandra 2022-12-30 08:16:43

Some Notes from The Pervert's Guide to Ideology

Common sense is popularizing --

1. The patient asks the doctor for help. Their guilt does not stem from excessive pleasure, not because they indulge in pleasure, which goes against a sense of duty or morality, etc., but on the contrary, they feel guilty because they cannot fully enjoy pleasure, because they cannot to enjoy.
       Desire is never the desire for something, it is always the desire for the desire itself, a desire to continue the desire.

2. All violence...

By Marian 2022-12-29 18:25:22

In the late communist years of Eastern Europe, there was a widespread rumour that the government had a secret police whose job was to create political jokes against the government and its leaders. Because they understand the positive and stabilizing effect of these jokes: ordinary people could have a simple and officially tolerated and acceptable way to make jokes and vent their frustrations.

There has been a widespread rumor among communists in...

By Carolyn 2022-12-27 03:53:50

1. What is ideology

An ideology is a set of beliefs and values ​​attributed to a person or group of persons, especially as held for reasons that are not purely epistemic.

Ideology is the values ​​and beliefs that people form and accept unconsciously when connecting with society. It enslaves us like a thread.

The purpose of ideology

to have a cake, and to eat it.

3....
User comments
( 12 ) Add comments
By Kieran 2023-01-03 18:29:33

The "pervert" is first reflected in the abnormality of the way of viewing. Looking straight ahead or ignoring with closed eyes falls into the trap of ideology, because both of them unintentionally affirm the intentional status of ideology (although there are positive and negative perspectives); Looking from the side", the so-called "natural place" will be revealed, and the trajectory of legitimacy and paradox walking side by side can be revealed. As for Zizek's key revelation in this film, it...

By Robin 2022-12-13 21:33:46

Very nice, needs subtitles, otherwise I can't keep up with Zizek's...

By Graham 2022-11-25 09:21:05

Enrolling in education to ensure safety...

By Andre 2022-11-03 06:39:27

The parody of "Titanic" is dead laughing. It begins with the "ideological criticism glasses" of "Extreme Space", and ends with Benjamin through "The Sound of Music", "West Side Story", "The Searcher", "Taxi Driver", etc. (I felt Teacher Qi's love for Benjamin. ), what Žižek really wants to do is not so much an "ideological criticism" teaching as a melancholy that the left has been unable to fix for a century—"What if the saved don't need salvation?" (its The archetypal question is why the...

By Ethyl 2022-10-29 23:34:00

...
Slavoj Zizek: When you put the glasses on - you see dictatorship in democracy. It's the invisible order which sustains your apparent freedom.

Slavoj Zizek: It may appear irrational because why does this guy - reject so violently to put the glasses on? It is as if he is well aware that spontaneously he lives - in a lie. That the glasses will make him see the truth - but that this truth can be painful. Can shatter many of your illusions. This is a paradox we have to accept.

Slavoj Zizek: In our post-modern, how ever we call them, societies - we are obliged to enjoy. Enjoyment becomes a kind or a weird perverted duty.
Movies Starring Slavoj Zizek