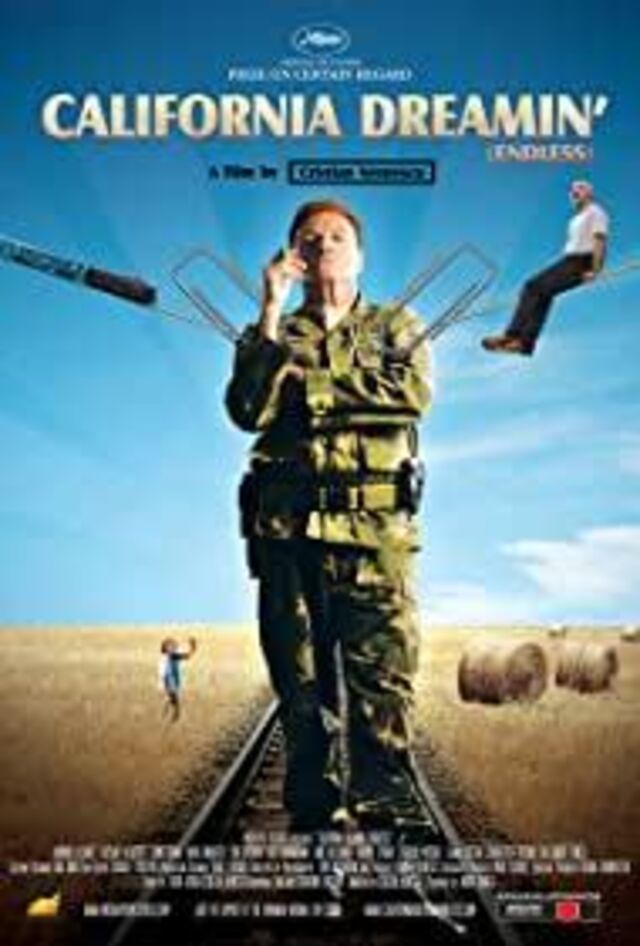 Director:
Cristian Nemescu
Writer:
Catherine Linstrum,Cristian Nemescu,Tudor Voican
Countries of origin:
Romania
Language:
English, Romanian, Spanish, Italian
Release date:
January 23, 2009
Runtime:
2 hours 35 minutes
Sound mix:
Dolby Digital
Aspect ratio:
2.35 : 1
Also known as:
California Dreamin' (Endless)
The film depicts a group of American soldiers who take a train through a small village in Romania in order to deliver weapons to Kosov, but are blocked by the railway station master because there is no official document of passage. The stranded American soldiers unexpectedly made waves for the village. Not only did the village chief hold a welcome party for them, but the girls in the village were more attentive to these young American soldiers, dreaming of being able to return to the sunny place with them. california.
Details
Release date

January 23, 2009

Filming locations

MediaPro Studios, Bucharest, Romania

Production companies

Media Pro Pictures, Media Pro, Romanian National Center for Cinematography
Box office
Budget
$1,600,000 (estimated)
Gross worldwide
$377,275
User comments
( 8 ) Add comments
By Rhiannon 2022-12-28 20:49:04

Not the best review but I like...

By Maximillian 2022-11-26 11:24:49

The talented Romanian director who was only 27 years old withdrew first, leaving this god-like movie to exist in the world. Don't complain that 155 minutes is long, that's because the director was in a hurry and didn't have time to edit. 5 points highly...

By Asha 2022-10-22 10:31:30

The pace is so slow. ....

By Hester 2022-09-17 23:19:00

Small country's...

By Darron 2022-09-17 20:35:22

Romania is on the...
Movies Starring Armand Assante